List Creation
When you first take over the list, either as a brand new location or inheriting it, your reps will "offer" to build the wine list for you. Often they will print it as well. They are so sweet! Don't do it. You need relationships with multiple suppliers to be able to leverage and work your reps
against each other. You also need flexibility for products. Take your time, go to tastings, learn to say no. Keep notes in whatever tool works, like Delectable or Vivino. Commit to the process and know it will always evolve as you move product, your menu changes and your skills are honed. A good list is one that gets used. Find distributors who don't charge for broken cases.
Being patient and waiting for closeouts can be a great way to help build a list. Most distributors don't want to hold wines either.
Known vs unknown
It's nice for a customer to see a wine and say "ooo I love that wine". Forget about it, if they know it they will know it at ⅓ to ¼ the price that you are listing it for. A nice play is to find clones of popular wines that are on-premise only. Honestly there are a dozen Rombauer and Meomi knockoffs out there that you can get at half the price. But they are useless if your staff can't make the cross sell.
That said, a couple trophy wines don't hurt. The insecurity many Americans have around wine will make some (especially guys) shoot for big $$ to show off. Let them. Most likely they won't know Taurasi or DRC, but these types will know Opus, Prisoner or Sassicaia. Throw it on the list with a fat margin even if you don't like it.
Markup
You may want to be more "fair" but holding wine is like holding an ingredient in your kitchen. It takes room that you pay rent for, it takes a paid professional to open it. Embrace your markup. If you were to go to someone's house and open the bottle, what would you charge?? The markup is supposed to be paying for the service, make sure the service is done right. Standard markup is between 3 and 4 times wholesale.
Owning your list
Know your list. Know the vintage changes and if they matter. Know the lateral sells, know the up sells. Leave your ego behind. Have the wines that your customers will buy, it's not your personal cellar.
In case of OOS, have the ability to cross sell. Don't attempt the upsell!
Menu Compatibility
Having a bunch of laser tight Burgundy with your burger bar, or flabby Chardonnay with sushi will not help people get into wine. You may hate Lodi Zin or Lambrucso, but wow, it does work with BBQ (especially secco lambrusco!). You may hate Riesling but a 10% ABV Spatlese Riesling or a demi sec Vouvray with that sushi can be love at first sight. Get out of your personal prejudices and make your list work with your food. We had a Bierzo rosado that paired perfectly with fish tacos. Once you make that connection for a customer they are yours forever.
Wine may not destroy a dish but it can definitely elevate one. A slightly salty sauce, a slightly overcooked lean protein can both be salvaged by the right wine. Get your chef and staff involved in experimentation, playing with different wines and explaining to each other why the wine works or doesn't work. Yes/no answers are not helpful.
Pairings are tricky, especially for multiple entree styles. She is having Vegan Pomegranate Quinoa and he's having rare Ribeye. Split the difference and go Beaujolais or Pinot. Additional information in Pairing section below.
List Format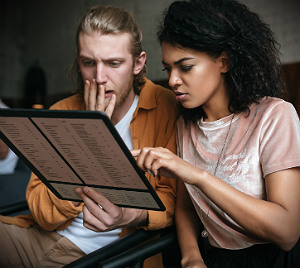 Even for us in the trade can't be expected to remember if a 1983 left bank is better than a 1984 right bank Bordeaux. Do you have descriptions with your menu items? Why NOT with your wine? Do you really think a 2001 Vougeot is more easily understood by the name than the Ceasar Salad on your menu that lists the ingredients? Give some detail on your list, just a single line if not more letting people know about the selection. I know it's not what the big boys do but the hell with them. Those lists are designed to force subservience to the somm, who may or may not know the difference between selections but has learned to pretend to.
BTG Bait and Upsell
A little path through the woods can help your list make money. If you have a Luberon or Ventoux BTG that is killer, have a Gigondas, Vacqueyras, or CdP to catch those fans. A good IGP Toscana can be the bridge into a big dollar Bolgheri, Languedoc to Minervois or Priorat, etc..